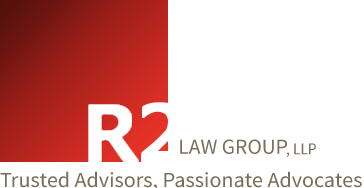 Business Litigation

Chasm or pillar of strength?
Keeping you on solid ground.
Business Litigation is an integral part of R2 Law Group, LLP. Our clients, which compete in a wide variety of industries, regularly call upon us to defend and represent their interests in federal and state trial courts throughout California.
Some law firms only offer litigation services. Our holistic approach and experience in business transactions and strategic consulting affords us a perspective pure litigation firms often lack. We appreciate that although we are in the litigation business, our clients are not. As such, we view litigation as a means to an end and never litigate for litigation sake. Rather, we embrace a pragmatic approach to litigation, best described by adjectives such as goal-oriented, strategic, practical, yet proactive.
Our strategic process (Listen, Learn, Design, and Deliver) is ingrained in our litigators and our firm culture.
The supreme art of war is to subdue the enemy without fighting.
—Sun Tzu, The Art of War
Litigation Client Related Services:
ADA Claims
Breach of Fiduciary Duty
Business Litigation Vetting
Business Raiding
Collections
Commercial Lease Disputes
Consumer Claims
Contract and Commercial Disputes
Covenants not to Compete
Defamation
Employment
Fraud Claims
Joint Venture Disputes
Licensing
Misappropriation of Trade Secrets
Non-Solicitation
Probate
Product Liability
Real Estate Disputes
Shareholders and Partnership Disputes
SLAPP
Trade Libel
Trust and Estate
Unfair Business Practices (B&PC 17200)