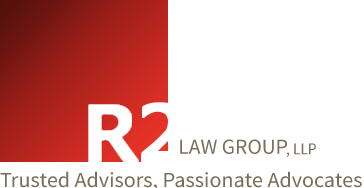 Purpose

End of a road or a new journey?
Guiding you toward your desired destination.
There is one quality which one must possess to win, and that is definiteness of purpose.
— Napoleon Hill
R2 Law Group, LLP, is a business centric law firm.  Our clients are successful privately held companies, entrepreneurs, and high-net worth individuals. In our role as trusted advisors, we serve our clients' litigation, transactional, and strategic consulting needs.
Our firm has earned the highest available rating ("AV Preeminent®") from Martindale-Hubbell for legal ability and ethical standards, the legal industry's leading Peer Review Ratings™ system, and is listed in Martindale-Hubbell's National Bar Register of Preeminent Lawyers.
Our mission is simple: help our clients achieve their strategic and financial objectives.
R2's Core Values
Our choices will determine our success. These Core Values act as our compass, guiding us to make consistently good choices, reminding us to walk the talk, and fairly serving both our clients and ourselves.
We are more interested in finding the best way, not having it our way.

Teamwork

We strive to see the world through the eyes of those we serve.

Empathy

We put forth our best effort, never confusing activity with achievement.

Effort

It's not what we say or intend that matters, but rather what we do – especially when we think no one is looking.

Character

Honesty breeds trust and trust is an indispensable ingredient in any meaningful relationship. We strive to create and maintain meaningful relationships with each other and those we serve.

Honesty